Ingi Olsen may be a bit biased, but he asserts that this is, by far, the biggest sporting event that Greenland has hosted.
"They said yesterday that about half of the population is watching," the national team head coach said by phone.
And that was just a group-stage game.
Greenland is hosting the Pan American Men's Handball Championship for the first time. Matches air live on national TV in primetime and are archived on its YouTube page (even the ones not involving Greenland).
None bigger than Saturday and Sunday. Greenland, not all that surprisingly, advanced to the semifinals after beating Colombia, Paraguay, Uruguay and Canada (and losing to Brazil) in its six-team group.
Every win and the one loss were expected. Handball is a national sport in Greenland, which has never played in a Pan Am final. Brazil is the defending Pan Am champion.
Greenland gets favored Argentina in Saturday's semifinals (6 p.m. in Inussivik, the 1,000-seat indoor arena in Nuuk, streaming on Kalaallit Nunaata Radioa's YouTube page).
The U.S. is not in this tournament after it failed to qualify in April. Greenland, which has about 60,000 people (one-fifth the size of Iceland), beat the U.S. at Pan Ams in 2014 and 2016. (The Greenland women also beat the U.S. in 2015.)
The U.S. has zero Olympic handball medals and an 8-39-1 all-time record in Olympic men's and women's play. It hasn't qualified a men's or women's handball team for the Games since it hosted in Atlanta in 1996.
Still, that Greenland can outperform the U.S. in any Olympic sport is an achievement. Credit Denmark, which has four Olympic handball titles.
"A lot of Danish people living in Greenland, teachers and so on, they brought the handball to Greenland, 30, 40 years ago," said Greenland assistant coach Rasmus Larsen, who said he played in the first 110 matches for Greenland's national team in the late 1990s and early 2000s.
Olsen, a 49-year-old coach who played for the Faroe Islands' national team and moved to Greenland in 2012 for a job with BankNordik, conceded that his Greenland team will likely be playing in Sunday's third-place game rather than the final.
Semifinal opponent Argentina reached all 10 Pan Am finals between 1996 and 2014, winning six of them, and was the only North or South American nation to qualify for the last two Olympics.
"We would win once in a 100," versus Argentina, Larsen said.
Playing for third place is OK. The Pan American Championship is a qualifier for the 2019 World Championship. The top three teams from Pan Ams advance to worlds, which will be hosted by Germany and Denmark. By winning either of its last two games, Greenland will qualify for worlds for the first time since 2007. That's the goal.
Greenland is an autonomous territory of Denmark and does not field its own Olympic team. That could change if the Faroe Islands wins its fight for Olympic recognition. Greenland and Faroe Islands athletes have competed for Denmark at the Summer and Winter Games.
"Greenland has, at the moment not any activity going on, regarding to be recognized as an IOC member," Carsten Olsen, secretary-general of Greenland's sports confederation, said in an email. "But it is a big wish and we are preparing, in small steps, to be ready if we one day can be recognized."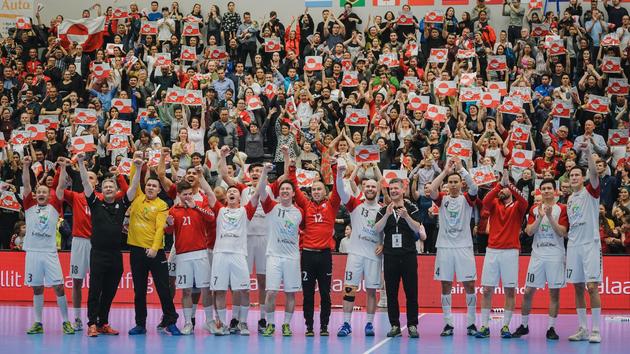 For now, the highest level athletes representing Greenland can reach are some sports' world championships (but not the World Cup; Greenland is not recognized by FIFA) or the Arctic Winter Games.
Greenland hosted the Arctic Winter Games for the first time in 2016, which Olsen called the biggest event in Greenland's history until this month's Pan Am Championship. Medal events included dog mushing and the finger pull.
Early forms of handball, an Olympic medal event since 1972, date to ancient Greece. In ancient Greenland, the Inuits would contest village-wide games using a blown-up animal's bladder or a moss-stuffed skin.
"Handball is still the most popular sport in Greenland," Olsen said, "but futsal is coming rapidly."
The Greenland men's national team includes about 10 players from Nuuk, the capital, another three living elsewhere in Greenland, one in the Faroe Islands and a few who play club ball in Denmark, Olsen said.
"We just went to see the prime minister to have some dried fish and some Greenlandic food, and he had some presents for us," Larsen said Friday, adding that the PM attended their last two games.
The highlight of Pan Ams thus far was a 31-29 win on Monday over Uruguay, the biggest threat to Greenland finishing second in the group behind Brazil to reach the semifinals. Uruguay tied it 29-all with two minutes left in the 60-minute game before Greenland scored on consecutive possessions, including a clock-expiring dagger from Miki Heilmann.
Players and fans — Olsen estimated 1,500 squeezed into Inussivik, but the official figure was 1,920 — celebrated while the traditional post-game music played — "Kalaallit Nunaat Pillugu" by Julie Berthelsen, so famous in Greenland she goes by one name. Julie also sang the national anthem for Greenland's first match of Pan Ams.
"One hour after the [Uruguay] match was finished, almost nobody left the building," Olsen said. "They were celebrating with the boys, the victory, as if we already came to the world championship."
Iceland's tourism board has a banner to the right of the arena scoreboard with its slogan, "Inspired by Iceland," peering to the court.
While much of the world is fixated on that nation's soccer story, those in Greenland, especially those standing and waving the Erfalasorput below that advertisement, are rallying around their handball team. The differences are many — starting with sport visibility and revenue, plus the lands' identities ("Iceland are vikings," Larsen said. "Greenland are Inuit. It's a different way of life.")
But there are also similarities.
"They're playing with their heart, a small country against the rest of the world," Larsen said. "We're trying to copy the spirit."
NBC Olympic Research contributed to this report.
OlympicTalk is on Apple News. Favorite us!
VIDEO: Kayla Harrison wins MMA debut with Ronda Rousey's move
Follow @nzaccardi