LeBron James met fellow Olympic champions runner Caster Semenya and discus thrower Robert Harting at a track and field meet at Berlin's historic Olympic Stadium on Sunday.
James, in Germany as part of a Nike promotional tour, was later reading about Jesse Owens on the way to an airport, according to one of his friends' Instagram accounts.
James is an experienced Olympic sports spectator. He attended swimming finals at both the 2008 and 2012 Olympics, sitting with Dara Torres in Beijing.
At Beijing's Water Cube, Michael Phelps said he heard James and Kobe Bryant "starting cheers and getting everybody going" as he chased Mark Spitz's record of seven gold medals in the pool, according to The New York Times.
In London, James and another swimmer, relay gold medalist Lauren Perdue, were joined in headlines after she turned down his invitation to eat with her at the dining hall.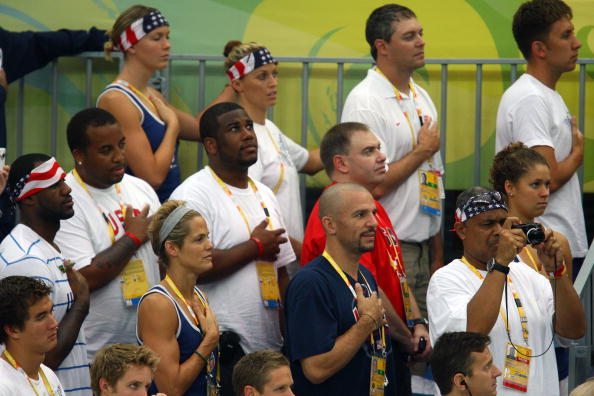 James also took in beach volleyball in Beijing with Jason Kidd, Kobe Bryant, Chris Paul and Carlos Boozer.
James, Bryant and Paul all became acquainted with Phelps, sharing conversations in Phelps' retirement. Fellow swimmer Jason Lezak also provided this story from Beijing:
"I remember leaving the pool, and we were all in the elevator together, me and all these NBA guys," Lezak said. "I was like, this is so cool. Kobe says to me, 'Right before the elevator stops, check this out, I'm going to sit here in the back, LeBron's going to walk out and get swamped, and I'm going to get right on the bus.' LeBron was swarmed. Sure enough, Kobe sneaks right onto the bus."
Similar stories date to the first Olympics with NBA players in 1992 — such as Larry Bird and the Dream Team meeting U.S. female gymnasts on a bus in Barcelona. Or 4-foot-6 gymnast Ragan Smith taking a photo with 6-foot-11 center DeAndre Jordan in Rio.
Also in Barcelona, Karl Malone befriended Oscar De La Hoya and huddled with the boxer's family during his first bout en route to gold. Bird went to a U.S. baseball game and met the players in the dugout, according to Sports Illustrated.
OlympicTalk is on Apple News. Favorite us!
MORE: Coach K on his Rio Olympic wish list, LeBron in 2020
Follow @nzaccardi