While now is very much an exciting time for Tetona Jackson, who has breakout roles in the HULU series All Night and the film All Styles (currently available on Showtime on Demand), her first tastes of the spotlight were on ice. Jackson grew up skating in the Los Angeles area—first at the Culver City Ice Arena (gone, but not forgotten) and then at the Skating Edge in Torrance—testing and competing.
"Skating was basically my entire life," said Jackson, whose coaches were Derek James and Charlene Wong with choreography by Lorna Brown. "I would wake up, train, go to school, do homework and then go back and train. I actually did independent study for two years, so I could focus on skating. I competed and I loved it."
Her biggest inspiration was Scott Hamilton, but Jackson also admired Surya Bonaly and Kristi Yamaguchi and looked up to Michelle Kwan, who had also been coached by James as a young skater. Toward the end of Jackson's competitive career, Kwan's sister, Karen Kwan Oppegard, taught at Skating Edge.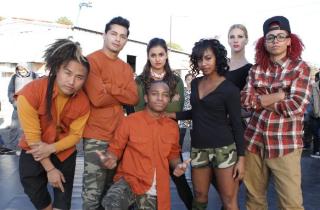 After competing at the U.S. Figure Skating National Showcase, Jackson realized the performance aspect of skating was what inspired her most. While recovering from an injury and deciding whether she would continue skating, Jackson heard Feld Entertainment, producers of Disney on Ice, was preparing to mount a national tour of High School Musical on Ice. One of the choreographers at the rink, Cindy Stuart, was involved with choreographing the show. Thus began Jackson's pro career.
Rehearsals were intense, but Jackson thrived. Cast in the role of Taylor McKessie (played in the films by Monique Coleman), she also understudied Gabriella Montez (portrayed on screen by Vanessa Hudgens). The show ran about two and a half years. When it ended, Jackson didn't know if her professional skating career would continue.
"Me being a black skater, I didn't know if there were any other principal roles," said Jackson.
Judy Thomas (in charge of casting for Disney on Ice) said a new princess themed show was being planned and Disney's first African-American princess, Tiana, who hadn't even debuted on screen yet, would be included in the ice show Disney on Ice Let's Celebrate. Jackson was offered the role.
"Instantly, I said yes," said Jackson. "That role was a lot of fun, but also nerve racking, since I was the first Tiana to appear anywhere."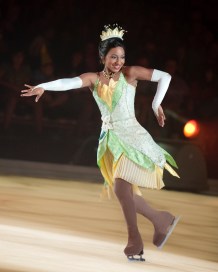 After several years of touring, she made the decision to get off the road. Back in Los Angeles, Jackson threw herself into dancing and acting. Having brought characters to life on the ice, she had a tremendous sense of performing. As she's immersed herself in the world of auditioning, time and again the discipline and resilience from skating have been crucial.
"As a skater, training from such a young age—there is a discipline to getting up every morning at 4:30 and go skate," she said. "My work ethic from skating is something I'm so thankful I am able to bring to acting."
Jackson hasn't skated in quite a while, but she's itching to go back and train for fun. You never know if it could lead to an acting role.
Such was the case for acting sisters April and Violet Brinson, who were called upon to roller skate throughout the HBO limited series Sharp Objects. They'd grown up ice skating in Texas and Oklahoma, so when they were cast as friends of one of show's main characters, they brought out their skating skills.
The teenage sisters, began skating just for fun as little kids in Austin, Texas, and then became more serious when the family moved to Oklahoma. Their coach was former Bulgarian competitor Boyko Aleksiev. They each skated for about six years, competing in regionals and sectionals and testing up through the junior level.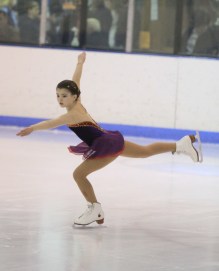 "We were both really passionate about skating," said Violet. "It was something unique."
"We're both really artistic," added April.
While the Brinsons played their Sharp Objects roles with a bit of cheeky humor, in the final moments of the series, they were revealed as being accomplices to murder. The show didn't air until almost a year after filming wrapped, so they steadfastly kept the plot twist to themselves. They hope more acting roles are coming their way and they're open to all genres.
It was great to bring their skating background into Sharp Objects, their most high profile roles to date.
"We were both really excited to get to use that skill we had worked so hard to develop in another area we're passionate about," said April. "And it was really nice to get back on skates, even though they're not ice skates."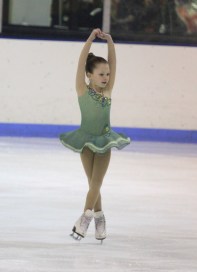 They haven't been ice skating since moving to Los Angeles about two years ago, but they if there is a role that involves figure skating, they vow to get their skills up to speed.
"I would be so down for that, I would love it," said Violet. "We learned discipline from skating. We also learned how to take corrections and apply them quickly, which is a valuable in acting."
OlympicTalk is on Apple News. Favorite us!