Hi, Ted,
I'm Laura from Peru. I like figure skating so much; perhaps it's not very popular in my country. I wanted to thank you for your comments on the events. They are very useful for people like me who just started to follow this sport.
–Email sent to Ted Barton during one of this season's Junior Grand Prix events
Laura Quinto Castro spent her childhood in Tarma, a city at 10,000 feet in the Peruvian Andes, where there was no ice rink. When Quinto Castro moved 150 miles west to coastal Lima, at age 11, she found what had been the lone permanent rink in her country, but that facility now has become itinerant in Peru's capital for lack of funding.
Quinto Castro, 27, still managed to develop a strong attraction to figure skating by watching ESPN Latin America's telecast of the 2014 Winter Olympics. Like many people worldwide, she was mesmerized by the exploits of 15-year-old Russian Yulia Lipnitskaya. A couple years later, Quinto Castro wondered what had happened to Lipnitskaya, the darling of the Sochi Winter Games.
So Quinto Castro began searching YouTube, which recommends videos based on the subject of the searches. One day, a video from the International Skating Union's Junior Grand Prix Skating Channel on YouTube popped up. She subscribed to the channel and found that it does streams of the JGP competitions that are available free and live throughout the world everywhere but Japan and South Korea, where TV networks have bought rights to the junior events.
Quinto Castro, a one-time roller skater, now is among the 66,754 subscribers to the channel, which will do its final live broadcasts of this season from the Junior Grand Prix Final Thursday through Saturday in Vancouver. Twelve-month streaming data (August-to-August) of Junior Grand Prix events on the YouTube channel, both live and archived, show viewer hits grew from 3.1 million for 2014-15 to 14.1 million for 2017-18 and could reach 15 million in 2018-19. The totals increase as people watch archived video.
Viewers to date this season have come from 83 countries. And Peru, which is not an ISU member country, is just one of the unlikely places where people are watching.
"We're very proud of bringing the sport to countries where people could never have seen it," said Ted Barton, the Canadian who does commentary on the streams.
Barton has asked viewers to send him their comments and suggestions via an email address given verbally and shown on the live streams. Quinto Castro was among those who responded. Other emails came from Nepal, Malaysia, Singapore, Iran ("A very odd country for figure skating world, but we do love figure skating. Though we are not member nation of ISU, we have quite great figure skaters at our tiny rink in Tehran!") and Brazil, where a 15-year-old named Camila wrote:
"I'm watching the JGP stream now, thinking 'bout how I'd like to be a figure skater myself, but, living in Brazil, there's not really much hope for that. Still, I really love the sport, and watching it makes me just so happy. I wonder if other people out there feel like me."
That others clearly do is reflected in the viewership statistics. Half the views come from Russia, whose young women have dominated junior singles for several years, and Japan, which has both top junior singles skaters and the most popular active skater in the world, two-time Olympic men's champion Yuzuru Hanyu.
"We always believed it was going to be a successful project," said Selina Vanier, the ISU Communication & Media Manager. "The more visibility we give the sport, the better it is."
(The ISU also streams its senior events, but those are geo-blocked in the countries with TV rights-holders, which means most of the world. Some of those broadcasts are free over-the-air, but many require a paid cable or streaming service subscription, such as the 'Figure Skating Pass' on NBC Sports Gold, which will give its subscribers live streams of the entire senior Grand Prix Final competition this week.)
MORE: How to watch the Grand Prix Final
While the junior numbers remain decidedly modest by comparison with other sports, they nevertheless reflect substantial intangible value on an ISU annual investment believed to be around $450,000. (The ISU declined to give an exact figure for JGP stream funding, part of the ISU Council's projects budget, which was $3.2 million in 2017.) It is unimportant that the ISU revenue from the YouTube hits amounts to nickels and dimes at this point.
For a sport increasingly challenged by its viewer demographics (largely older) and competition from other forms of entertainment, the venture can be called a success, especially as a way to engage the generations who consume much of their entertainment on mobile phones.
"The streaming aspect is critically important to reach not only new fans but a younger demographic," said Ramsey Baker, U.S. Figure Skating's chief marketing officer. "That aspect alone makes it worth the investment.
"The Junior Grand Prix is a nice starting point for someone to get into watching the sport. And it provides the ISU with data that can help them develop media partners in new territories."
Caitlyn Chen, vice-president of Chinese digital media colossus Tencent (an ISU rights-holder in China), told an International Basketball Federation summit this fall that market research showed of the 160 million Chinese born between 2000 and 2010, over 70 percent "say they are following closely at least one sport. From this, we can see they are not just using phones or smart media to play games."
For the world's hard-core skating fans, the free Junior Grand Prix streams are manna from heaven, especially because Barton is a big part of feeding their appetite.
It is fitting that Barton has an integral role – if, by his own estimation, an improbable one – in the success of the project.
Barton, 64, a native New Zealander who moved to British Columbia, was Canada's national junior men's singles champion in 1973 and finished 16th at senior worlds in 1976. Beginning in 2002, when the ISU began implementing a new judging system in reaction to the Salt Lake Olympics pairs judging controversy, Barton was involved in implanting the video replay that became a key part of the new system.
When U.S. Figure Skating created icenetwork in 2007, it realized the video replay camera used at competitions could serve another purpose: providing the content from the sectional, regional and national (junior and below) events it wanted to stream to icenetwork subscribers. Baker said there eventually were discussions among ISU officials about ways the international federation could use the video footage from its replay camera at ISU events, and that led in 2011 to the first Junior Grand Prix streams, which used a single camera.
"Live streaming was still knives and bearskins at that point," said Rob Dustin, a longtime figure skating producer on various platforms.
In the 2013 season, the ISU had 1.5 million YouTube views of the rudimentary streams, according to Dustin. At that point, the ISU hired him and his company, Red Brick Entertainment, to provide a real production using five or six cameras but keeping costs down with what he calls a "high-speed, low-drag approach" that includes just four or five production people at an event. One big cost saving comes from being able to process and encode the stream on site and doing it without paying what Dustin said would be $150,000 for a "legacy" broadcast replay system.
The coverage includes every skater in every Junior Grand Prix event, not just the elite shown in many network broadcasts of senior competitions. That can mean two dozen skaters in men's and women's singles, but it guarantees fans in, say, Indonesia, will see their nation's lone competitor. For those who want to watch only that athlete, Dustin and his team provide that individual video within minutes of the skater's group having finished.
"The ISU wanted us to be the voice of those skaters," Dustin said. "The ISU is doing this for exposure, not for revenue."
Best of all, the coverage has been reliable: by Dustin's count, the JGP live stream has been down for less than an hour in approximately 1,000 hours of streaming over the past five seasons.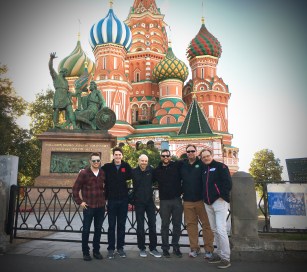 From viewers' standpoint, the best thing Dustin did was to bring on Barton as commentator, no matter that he had no training or experience for the role. (His real job is executive director of Skate Canada British Columbia / Yukon.)
"I was without question horrible at the beginning," Barton wrote in an email Monday. "I hated doing it (at first) but knew if the streaming was to be successful, I had to make it something different – but most importantly something people would respect and maybe even learn some small details from."
What Barton brought to the table was in-depth knowledge of the judging and scoring systems, a refusal to make himself the center of attention and a decision to comment honestly but not disparagingly about the skaters. He talks only during the replays, which he chooses, and his restraint is noticeable: even a history-making successful quadruple Lutz by 14-year-old Russian Alexandra Trusova this season, first by a woman in international competition, did not bring a verbal exclamation point from Barton but rather a simple acknowledgement of the jump having been fully rotated.
"People would very quick to criticize the ISU if I did what everyone else does and speak too much," Barton said. "So, I decided there would be no commentary during the performance. I wanted to be respectful of the work of the skater and coach/choreographer and… reserve thoughts/opinions to after the performance."
He then prefers to explain technical reasons for mistakes rather than to focus on how badly the mistakes damage a performance.
"Ted has a different way of looking at a skater who has gone ker-splat," Dustin said.
So this is what Barton had to say after Marina Asoyan of Armenia, in her international competition debut at age 15, fell three times and had just one positive grade for 11 elements in the free skate at the Junior Grand Prix in Armenia:
"Marina wanted so badly to skate well in front of her hometown fans. Maybe she was just a little too excited… You could see her disappointment at the end of the program… There's the double loop (a fall), and she's not on top of her feet at all… It was just one of those frustrating times when nothing seems to go right."
Figure skating fans generally favor such a kid-gloves approach to commentary, especially where a young and/or inexperienced athlete is involved. (Barton is more self-critical, promising to improve his sometimes-botched pronunciations of names.) And many fans complain vociferously on social media about commentators who talk throughout the performance.
"When I began to see the emotion, both positive and negative, on the faces of these young skaters I then knew I had to support their successes and help them through their failures," Barton wrote. "Just be honest but sensitive in the delivery and encouraging in some solutions.
"I know what parents go through emotionally just watching their sons and daughters perform, let alone what they (the skaters) have to deal with on social media, so I wanted to try and be a voice of reason and encouragement. I would say for the most part we have been successful."
The vituperation on social media, even where juniors are involved, reached the point where it was decided before this season to turn off the live chat during streaming on the YouTube site.
MORE: Yevgenia Medvedeva responds to social media criticism
The skaters speak for themselves in post-competition interviews, some requested specifically by the rights-holders in Japan and South Korea. It is a sort of informal media training for what may lie ahead at the senior level, and it introduces their personalities to viewers.
It also fuels the interest of viewers like Quinto Castro, who said in a recent email to me that she has become "a big fan of the Russian ladies" while following the junior events since the 2016-17 season, and she wishes she did not need a cable subscription to watch more senior events live. (Peru – and every South American country but Brazil and Guyana – falls under ESPN's rights agreement for South America.) Exposure cannot always trump revenue, and rights-holders want a return on their investment.
At least it is easier to watch figure skating in Peru than to practice it.
"In the future, I would like to go live in another country and try to do figure skating for adults," Quinto Castro wrote.
Philip Hersh, who has covered figure skating at the last 11 Winter Olympics, is a special contributor to NBCSports.com/figure-skating
As a reminder, you can watch the ISU Grand Prix Series live and on-demand with the 'Figure Skating Pass' on NBC Sports Gold. Go to NBCsports.com/gold/figure-skating to sign up for access to every ISU Grand Prix and championship event, as well as domestic U.S. Figure Skating events throughout the season. NBC Sports Gold gives subscribers an unprecedented level of access on more platforms and devices than ever before.
OlympicTalk is on Apple News. Favorite us!