DETROIT – Bradie Tennell's rise from near obscurity to the leading U.S. women's skater last season was built on consistency that matched her never-miss-a-day work ethic.
Going into the individual competition at the 2018 Olympics, Tennell had flawlessly landed 31 of her 32 triple jumps in major competitions last season.
Then she fell on the second jump of her combination in the Olympic short program.
And her jumping has been surprisingly inconsistent since.
In Tennell's seven national and international competitions beginning with the 2018 Olympics, fewer than two-thirds (43 of 69) of her triple jumps or combinations with triple jumps have resulted in a positive Grade of Execution.
Many of the negatives have come from under-rotation calls, as the International Skating Union cracked down on under-rotated jumps this season. Eighteen of her 26 negative GOEs have involved under-rotations.
The calls have frustrated her coaches, Denise Myers and Jeremy Allen, who feel after watching slow-motion video of the jumps in question that the negatives are, well, uncalled for.
"Obviously, you don't want to get those calls," Tennell said. "All you can do is take the lesson learned and move on."
At the 2019 U.S. Championships, in which she finished second to Alysa Liu, Tennell won Thursday's short program with one of just two clean programs she has done among her 14 this season. (The other was in her previous competition, Golden Spin of Zagreb.)
The Friday free skate, in which she finished fourth, included a botched landing on the second jump of a triple Lutz, triple loop combination and a fall on the under-rotated triple Lutz that was to open a second triple-triple combination.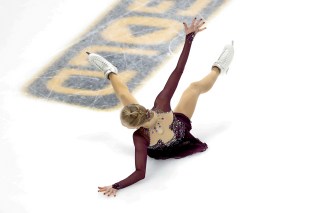 "What we do out there is really hard and we're only human," Tennell said.
Myers felt the emphasis Tennell has been putting on the artistic side and artistic complexity of her skating this season may, in the short term, have contributed to lesser jump consistency.
"We want to focus on the growth Bradie has made artistically over the past season," Myers said Saturday. "If you look at her transitions in and out of each element, I know you must see it [the growth]. It's a process."
Tennell, 20, has repeatedly insisted this season that she does not feel extra pressure from her suddenly acquired status as best in the U.S.
"It has never crossed my mind that I'm the woman to beat," she said earlier this month. "I don't think of things in terms like that. Every time I go out on the ice, I want to do the best for myself."
MORE: Alysa Liu is the "future of U.S. ladies' skating," according to Tara Lipinski
As a reminder, you can watch the U.S. Championships live and on-demand with the 'Figure Skating Pass' on NBC Sports Gold. Go to NBCsports.com/gold/figure-skating to sign up for access to every ISU Grand Prix and championship event, as well as domestic U.S. Figure Skating events throughout the season. NBC Sports Gold gives subscribers an unprecedented level of access on more platforms and devices than ever before.
OlympicTalk is on Apple News. Favorite us!
Follow @nbcolympictalk