Yevgenia Medvedeva divided figure skating fans with her new exhibition program set to Ariana Grande's smash hit '7 Rings.' Medvedeva is currently performing the number on the Canadian Stars on Ice tour while decked out in head-to-toe pink. She sheds a fur coach at the beginning of the performance and also mimics pop star Grande's signature high ponytail.
Olympian Misha Ge choreographed the exhibition with Medvedeva around the time of the world championships, where she earned bronze. Ge chatted with NBCSports.com/figure-skating at an event in New York to explain the intent behind the program: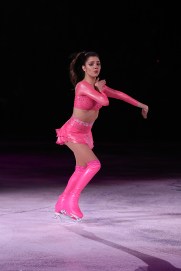 "We want to go a little more mature," he said. "I give her few music options and she's like, 'I wanna try this,' which she never done before: be more sexy, be more open, more funky. I feel like American audiences and Canadian audiences love it more, but European audience, they have so much question regarding it. I'm like, 'OK, we doing what we can.'"
"I could understand [why] some people might not really understand it," he continued. "To understand it, you have to watch Ariana Grande's music video. People [who] didn't watch it, they're like, 'why her dress so pink?' 'why is crop top?' 'why is it like that?' I'm like, 'Guys, watch the original musical video. We follow that!' People didn't say much about Ariana's style out there, but people have some issue with Yevgenia's style – but it was identical. We couldn't make anybody happy but we do the best we could in that situation."
The choreography was piece by piece as Ge and Medvedeva sent videos back and forth via long-distance. He said it was done under a time crunch, too, which added to the difficulty.
"Of course, it's harder to produce the same quality that we did during competition when everything was on the ice.
"But she's happy, she loves it. She enjoys it, which is important for a skater to grow when they try new stuff. She haven't done those things."
Ge also choreographed Medvedeva's short program for the 2018-19 season, set to "Tosca" by Giacomo Puccini. He said he'll be working with skaters across the United States for the upcoming season at the sectional, regional and national competition levels.
MORE: Yevgenia Medvedeva responds to social media criticism
OlympicTalk is on Apple News. Favorite us!
Follow @rchlltz